ALung gets Canadian approval to sell Hemolung system
Friday, February 1, 2013
By Malia Spencer, Reporter, Pittsburgh Business Times
Alung Technologies has received its first government clearance to start selling its Hemolung Respiratory Assist System, reaching a key milestone in the company's development.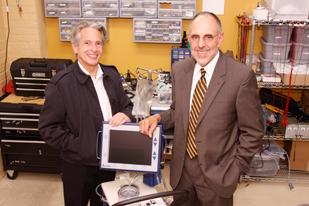 The company in January secured a Health Canada license, which means it can now commercialize the product in Canada, CEO Pete DeComo said.
"Canada just happens to be the first; we are being reviewed in other countries," he said. "We believe that a number of countries will follow soon and expect within the month to have the limited approval in Australia, and we expect that Europe will soon approve us and bestow on us the CE Mark."
It's been a long road for ALung's technology, developed by William Federspiel and the late Dr. Brack Hattler at the McGowan Institute for Regenerative Medicine. The company was formed in 1997, then spun out of the lab in 2005. The product underwent four major iterations before its current form took shape, and had its first in-human trials in February 2010. The company has been working through the regulatory process for commercialization for more than a year.
The Canadian process took five months, DeComo said. The same process has now taken 19 months in Europe, he said.
Like other medical device companies, ALung opted to get commercialization approvals from foreign markets before attempting to go through the U.S. process, which is longer and more complicated.
"We haven't even started with the FDA; we are in the process of preparing for the FDA process," DeComo said. "The FDA will be more complex, more challenging and a significant period of time longer than any other country." However, DeComo noted the European process has become almost as challenging.
ALung's technology is a new way to treat patients with acute respiratory failure that eliminates the need for intubation and a ventilator. The Hemolung is considered an extracorporeal carbon dioxide removal device and works akin to kidney dialysis. Using a catheter in a vein, blood is removed and run through the machine, where the carbon dioxide is removed by an artificial lung before being put back in the body. By performing this function, the patient's lungs are given a chance to rest and heal.
Because the patient is not intubated, there is a quicker recovery time, and DeComo estimates use of the Hemolung could shave off three to five days of a hospital stay in the ICU. This could mean savings of between $10,000 and $30,000 in a patient's stay.
The Canadian rollout is being done in a slow and controlled way, said Scott Morley, vice president of marketing. To do this, the company created the Hemolung Reference Center Program, which will offer systems to certain health centers experienced in extracorporeal care. This way, the devices will be with experienced clinicians and the right patients. These early users will be put in a database, and the information will help ALung as it refines the system and further rolls it out.
The company expects there will be two to three centers in Canada with the product to start. As approvals come in, another two to three centers are expected in Australia.
In Europe, the company intends to start in the German and United Kingdom markets with 10 to 20 centers, DeComo said. The list price there for the hardware is expected to be 35,000 euros, and the patient kit, which has disposable items like the artificial lung and catheter for a week's worth of patient care, is expected to be 8,500 euros.
Globally, ALung estimates there's a market opportunity of $4.6 billion.
While the company has been working through the regulatory process, it also has been building up its manufacturing capability. It has inventory of roughly 40 machines and 50 artificial lungs, and the capacity to build about 10 machines a month and 50 artificial lungs, DeComo said.
To date, ALung has raised about $40 million in private equity to get the company this far. Investors have been primarily angels, with the exception of Birchmere Ventures, which led the company's $10 million series B round with a $2 million investment.
"Canada is very exciting; the Canadian and Australian markets are smaller than Europe and the U.S., but they are very important," said Mel Pirchesky, CEO of Eagle Ventures and an investor in the company.
Gary Glausser, who sits on the ALung board representing Birchmere, said the company was looked at as a big opportunity. He also is chief investment officer at Innovation Works, which put money into ALung early on. Glausser noted Birchmere invested in DeComo's previous company, Renal Solutions, which was acquired in 2007 for $200 million.
"Actually, from a market standpoint, it was larger than Renal," he said. "We looked at the technology and thought it would really change the market, change how the ICU works."

URL for this article: http://www.bizjournals.com/pittsburgh/print-edition/2013/02/01/alung-gets-canadian-approval-hemolung.html